Domino_main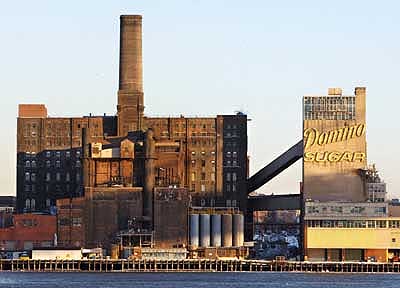 American Sugar Refining Co. (aka Domino Sugar)
The Domino Sugar Refinery is one of the last major industrial sites on Williamsburg's waterfront. Recently, the entire site was acquired by CPC Resources and Isaac Katan, with the intention of redeveloping the site for residential use (with up to 1,500 units proposed). WPA supports the redevelopment of the site, provided that architecturally and historically significant buildings such as the refinery, Adant House and Power House are preserved as part of the redevelopment. We believe that a comprehensive preservation program, combined with high-quality new design and affordable housing will best serve the Williamsburg community.
The Domino Sugar Refinery is one of the most prominent industrial sites on the East River waterfront. The complex consists of seven larger buildings and many other smaller structures, occupying a six-block site on the Williamsburg waterfront immediately north of the Williamsburg Bridge. The existing complex includes two buildings from the refinery's earliest period of construction, 1884, as well as a number of other significant structures from the 1920s-1930s and 1950s-1960s.
At the time of its construction, the complex was the largest sugar refineries in the world. The refinery, which was constructed in the 19th century, continued to be a major processor of sugar in the 21st century. The existing complex includes architecturally significant from the 19th and 20th centuries. These include the Rundbogenstil processing house and Adant house (both constructed in 1884) and the industrial moderne raw sugar warehouse (ca. 1930). The concrete and glass Bin Structure (1960), with its neon "Domino Sugars" sign, is an East River landmark in its own right.
The refinery is nationally significant for its industrial advances, and for the sheer scale of its operations. It is also a nationally significant site for its place in the Havemeyer family sugar trust, which by the end of the 19th century, controlled over 90% of the sugar production in the United States.