Fillmore Place Historic District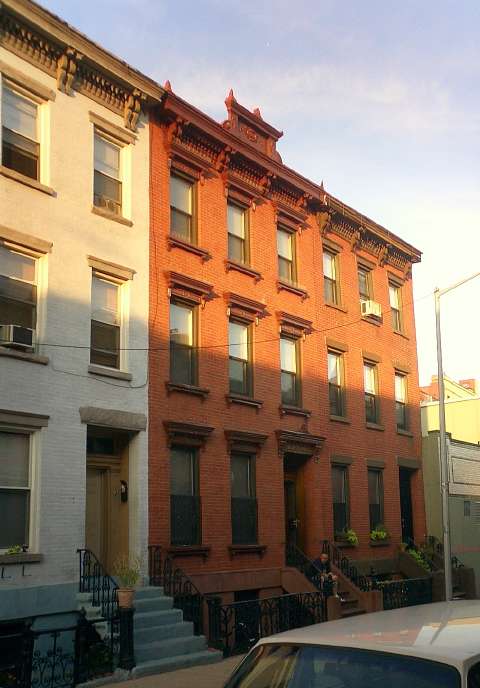 23 and 25 Fillmore Place (photo: WPA)
One of the things that has been keeping us busy of late is Fillmore Place. For those of who don't know it, Fillmore Place is a one-block long street running between Driggs and Roebling, parallel and between Metropolitan and Grand. Turning the corner on Fillmore is like walking into a another world - the narrow street is lined on both sides with 1850s brick row houses, all constructed as a single development. Fillmore Place was the brainchild of Alfred Clock and Ephraim Miller, a pair of Williamsburgh merchants and real estate developers who bought up property on the block in the late 1840s and opened Fillmore Place at their own expense.
Author Henry Miller spent his early childhood at 662 Driggs Avenue, his grandfather's house, at the head of Fillmore Place. In Tropic of Capricorn he recalled Fillmore Place as "the most enchanting street I have ever seen in all my life... it was the ideal street...". Miller, who also lived for a time in Bushwick, wrote frequently about Fillmore Place and the surrounding neighborhood, recalling a saloon at the corner of Driggs & Fillmore, his kindergarten at the opposite end of Fillmore, as well as the fishmonger on Grand Street (who lived at 18 Fillmore Place).
Clock & Miller constructed about 24 rowhouses on Fillmore Place, Driggs Avenue (then called Fifth Street) and Roebling (Sixth) Street. Twenty one of those rowhouses survive today, most of them quite intact. The three-story buildings are simple in design, decorated with a variety of brownstone details and wood cornices typical of their time.
In 2005, Fillmore Place was nominated by the Municipal Art Society as a potential New York City Historic District. Today, WPA is submitting an in-depth historical analysis of the block and the surrounding area to the Landmarks Preservation Commission. We are requesting that Landmarks move now to designate Fillmore Place as Williamsburg's first Historic District. The proposed Fillmore Historic District includes the 21 surviving Clock & Miller buildings, as well as the Henry Miller house and three other mid-19th-century rowhouses on Driggs. Together, these buildings represent a significant part of Williamsburgh's first real estate boom (yes, its happened before), a rare a surviving example of a large-scale pre-Civil War residential development.