Why 184 Kent is a Landmark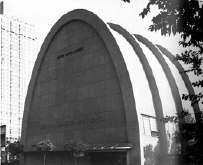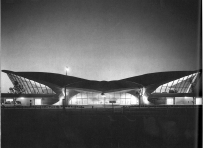 The Austin, Nichols & Co. Warehouse, located at 184 Kent Avenue in Williamsburg, Brooklyn, was designed in 1913 by Cass Gilbert for Horace Havemeyer and Austin, Nichols & Co. Facing the East River, the building has stood as a monumnent to Brooklyn's industrial heritage for close to a century. Recently, this Williamsburg landmark was officially designated a New York City Landmark. [Update - But then again, not - see why.]
The owner of the building has gone to great expense to have the building not be a landmark, going so far as to hire say-anything historians to argue that this building is unworthy of landmark designation. For a complete analysis of why 184 Kent Avenue is and should be a landmark, click here (warning: pdf). For the Cliff Notes version, read on.
Cass Gilbert was one of the premier American architects of his era. In addition to the Woolworth Building, Gilbert designed the United State Supreme Court building (Washington, DC, 1935) and Minnesota State Capitol (St. Paul, 1905). Gilbert's other New York City projects include the Gothic-revival style West Street Building (90 West Street), the Beaux-Arts style United States Custom House (now Museum of the American Indian) at Bowling Green, and the Brooklyn Army Terminal in Sunset Park.
The Austin, Nichols & Company Warehouse is an important bridge between the historicist architectural styles of the 19th and early-20th centuries and the modernist movement which was just taking shape in Europe and America at this time.
Unlike many other industrial buildings of its era, Austin Nichols derives its monumentality from its minimalist design – relying on its strong sculptural form rather than applied ornament for its architectural expression. This absence of applied ornament would become a hallmark of the modern movement in architecture.
Constructed to house a world-class grocery distribution concern, the Austin Nichols & Company Warehouse is one of the few purpose-built industrial buildings in the city to be designed by a prominent architect. The building was cited in period literature for its design and for its engineering accomplishments.
It is also unique in that it is an early example of the use of poured-in-place concrete to create the form (as opposed to just the structure) of a building. Austin Nichols was half a century ahead of Eero Saarinen's TWA Terminal (1963, bottom right) and Frank Lloyd Wright's Guggenheim Museum (1957) – two masterpieces of poured-in-place concrete architecture in New York. It was also years ahead of other Landmark concrete structures such as the Municipal Asphalt Plant (Kahn & Jacobs, 1940, middle right).
The building itself is well suited for adaptive use. It has large windows ands high ceilings, which combine to create dramatic interior spaces with breathtaking river views. Many of Cass Gilbert's landmark buildings are currently being converted to residential use (including 90 West Street and the Woolworth building); designation of this building would not prevent a conversion to residential use. Nor would designation hinder the rezoning or the City's plans for the waterfront.