Dutch Mustard News!
We're not exactly sure why this requires a press release now; perhaps some press flack is catching up on the development news. Or perhaps they're being green and recycling last year's news. Anyhow, the "news" is this - Steiner Equities has chosen architecture firm GreenbergFarrow to design a "warehouse-inspired condominium and townhouse project in Williamsburg, Brooklyn... GreenbergFarrow will transform the long-shuttered site of the Old Dutch Mustard Co. into 80 Metropolitan, a six-story building with 114 lofts and nine three-story townhouses".
That probably sounds familiar, as Steiner demolished the Dutch Mustard building two years ago, and construction on the site has been going on for the better part of a year. (Seriously, we read about it here.)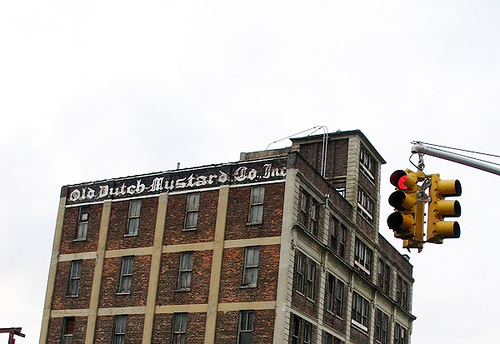 Old Dutch Mustard Co.
Photo: Maria Sochaniewicz
Here's more from Navid Maqami, principal of architecture at GreenbergFarrow: "80 Metropolitan will incorporate many forward-looking design elements but will at the same time incorporate the character of the neighborhood, which was once dominated by factories and warehouses". Having decided to demolish the much-beloved Dutch Mustard building, its really not clear to us why you design a new building to look like a factory. Its even less clear how a "factory" can incorporate town houses. If they wanted to reflect the industrial character of the neighborhood, perhaps they should have saved the the large industrial building in the middle of their site.
Oh, wait - they tried: "The factory has been vacant for more than 20 years [funny, we remember a lot of parties there] and Steiner purchased the site in 2006. The company hoped to incorporate the factory directly into the new development's design plans. But after weighing construction code issues, handicapped access, and several design schemes created by GreenbergFarrow, the company decided to build from the ground up and create a residential complex that would capture the neighborhood's historic architectural style motif. 'We tried really hard to see if we could build around the existing construction, but it was not possible,' says Maqami."
The Dutch Mustard Building did a pretty good job of capturing our "historic architectural style motif". Plus, it would have been a lot more "green" to reuse the building.