BRT: Imagine the Possibilities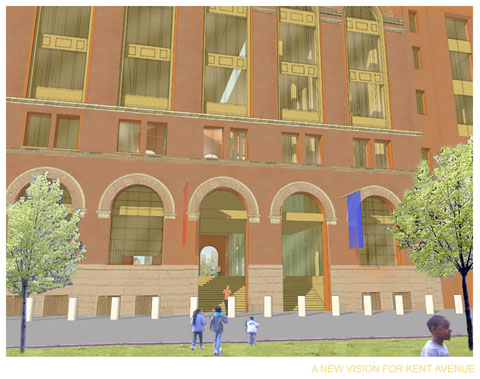 As seen first on Curbed, a local architect has been thinking creatively about the former Brooklyn Rapid Transit Power House at 500 Kent. (Meanwhile, Con Ed has been spinning creatively.)
There are many possibilities for this site - housing, industry, cultural institution, community facility, or any combination thereof. Demolition - without a plan in place - is simply a waste of a building and another opportunity lost for the community.
The BRT site is a very interesting location (see image after the jump). The plot to the north (Certified Lumber) is applying for a rezoning to construct housing along the lines of Schaefer Landing or Kedem Winery. The site to the south is probably destined to become a part of the Brooklyn Navy Yard. To the west is an inlet from the East River/Wallabout Bay, which lies at about the location of the historic Wallabout Creek. To the east (across Kent) is Roberto Clemente Park. This site is really a point of transition, an opportunity to bridge different uses, and provide a connector from the park to the east and the waterfront to the west. The site itself includes a fair amount of open space as it is. As public open space, it could terminate a new waterfront esplanade that would run from south of Division Avenue north to Broadway.
None of this requires demolition of the historic building. Without a plan in place, demolition is simply a waste of a building and all of the energy that went into its construction. Short of turning the site over to public open space, there is no use that requires demolition.