Don't Demo Domino - Benefit Wrap Up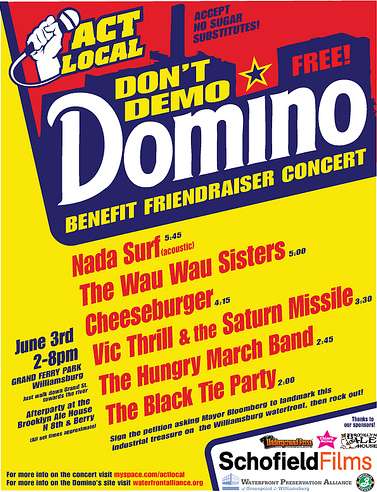 Many thanks to everyone who helped make today's Don't Demo Domino benefit a success. Despite the threat of rain, the bad stuff held off until the end, and we got to see The Black Tie Party, The Hungry Marching Band, Chesseburger, Vic Thrill (but no Saturn Missile) and the Wau Wau Sisters al fresco. Afterwards, everyone retired to the Brooklyn Ale House to catch an acoustic set by Nada Surf and enjoy some beer. Thank you one and all.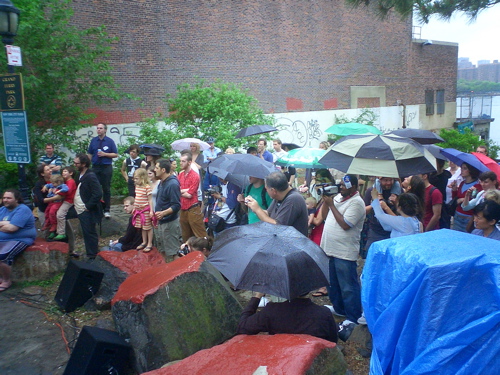 The crowd at Grand Ferry Park, watching Vic Thrill in the rain.
The results? Over 850 people came to Grand Ferry Park and signed our Don't Demo Domino petition! These signatures will be added to the thousands who have already signed up to support preservation at the Domino site, and will help send the message to the Landmarks Commission and the City Council.
Very special thanks to Mikki Halpin and Act Local, who not only put on a tremendous show, but did an amazing job of organization and overcame any number of unexpected turns. Mikki put this whole package together, including recruiting many of the volunteers. And thanks to all of the sponsors: SchofieldFilms, Brooklyn Brewery, Underground Press, the Brooklyn Ale House and Chiara Sullivan.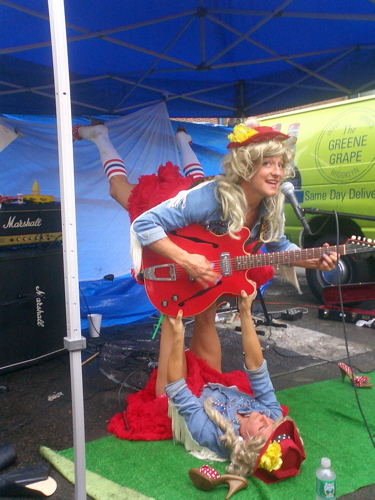 The wholesome down-home country stylings of the Wau Wau Sisters
Thanks too to all the volunteers who helped set up and clean up, and carried petitions in the rain, making sure that everyone signed on. And, of course, thanks to everyone who came to enjoy what started as a pleasant Sunday afternoon in the park. With the music and the crowds, it stayed pleasant, if not so warm and sunny.
We have many more events planned in the near future, so please stay tuned. And if you have photos of the benefit today, please email us the links at wpa[at]waterfrontalliance.org. Thanks!