Stucco Horror on North 9th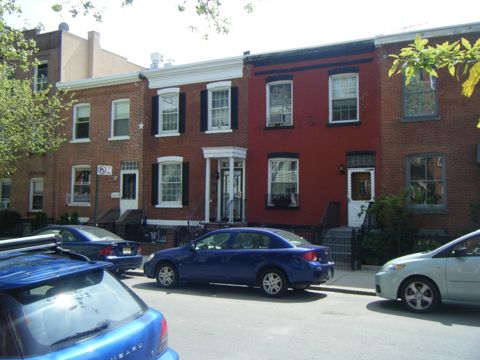 110 - 114 North 9th Street
ca. 1860s
On the north side of North 9th Street between Wythe and Berry there is a lovely row of tiny houses, about 9 in all (originally there were 10). Raised on low basements, the two-story buildings are simple and small. They are constructed of brick with brick or stone segmental-arch lintels and brick cornices.
By Northside standards, the buildings are quite old - they appear on land maps as early as 1869 and probably date to before the Civil War. They've survived for at least 140 years pretty much intact. Some have been painted, some have been made fancier through the addition of porticos and porches. But for the most part, they have remained as simple brick buildings.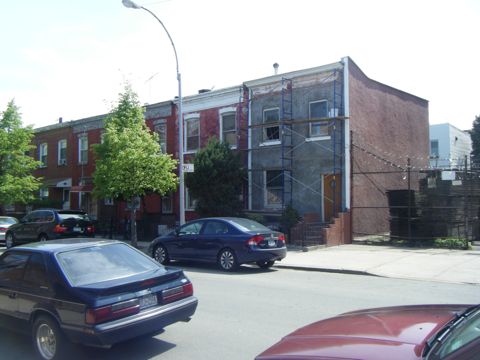 96 North 9th Street (during)
Until now. The westernmost building in the row (96 North 9th Street) is in the process of being "upgraded" with a new stucco finish. This is a treatment that has become ubiquitous in Greenpoint and Williamsburg in the past few years. It involves gluing styrofoam to the face of a building and then applying a very thin coat of cement stucco. By sculpting the styrofoam, wonderful (as in wonderfully tasteless) shapes can be achieved. The stucco can be tinted any color of the rainbow, and it usually is. In a neighborhood that has embraced every form of artificial siding ever invented, maybe its appropriate. But from the building's point of view, there is absolutely no reason for it. The stucco will not make the building last longer - certainly no longer than a decent pointing job would. It certainly doesn't make the building look better. It just makes the building look like something it shouldn't be.