Benefit Wrap Up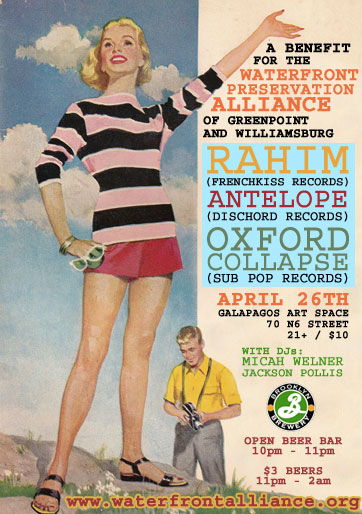 The Galapagos Benefit was a great success - there were over 100 people in attendance, and WPA was able to raise almost $700 (money that we will put towards more events, more postcards and more t-shirts, as well as more activism). Very special thanks are due to Dana Gluck, the event's organizer. Dana pulled together a great lineup of talent, and the beverages and raffle.
Special thanks also to the talent - Oxford Collapse, Antelope and Rahim and DJs Micah Welner and Jackson Pollis. Thanks to Brooklyn Brewery for donating beverages and being an event sponsor. And thanks to the local businesses who donated raffle prizes - Cinders Gallery, Armoire, Greenhouse Holistic, Fornino Pizza, Barcade, Cheeks Bakery and Treehouse.
And finally thanks to our own Alice Rich and all of the volunteers who worked the event.
We have some more events planned for the summer, so stay tuned.