Domino - inside and out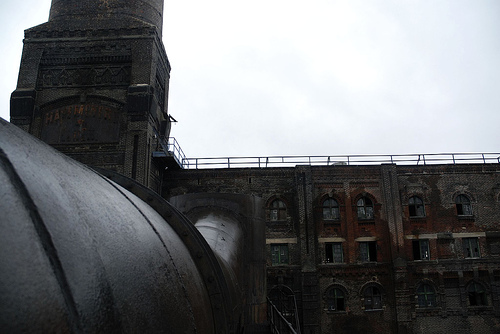 The west side of the main refinery building. The 1882 Havemeyers & Elder sign is at the base of the historic chimney; the oval stack above was added in the 1930s. Community Preservation Corporation, the developer, has said that it supports the preservation and reuse of this structure. If this building is retained, and the buildings to west are removed, this historic west facade will be visible from the East River.
Photo: Mercurialn
A group of photobloggers managed to get into the Domino refinery and document the interior of the building. There are some amazing pictures here, particularly for the industrial archaeologists among us. Most of these are interior shots, and don't show the architectural features of the most historic buildings. But they do give a great sense of the scale of the operation. And they are amazing.
All of the photos are here:
There's also a great panorama from the roof of the Bin Structure (!) here.
And, Gothamist has a post on it as well.