McCarren Park Pool Design Planning Charette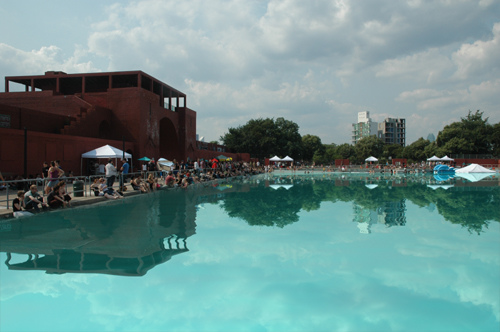 Photo: Gowanus Lounge.
Next Wednesday, there is an important community design charette for McCarren Park Pool. This is your opportunity to sit down with your neighbors and give your input to what the future McCarren Park Pool should be. The architect for the redesign will be chosen in the coming days and will be on hand for the charette. This is open to the public.
Community Board #1, The Open Space Alliance (OSA), and Parks & Recreation invite you to an open public design and planning charette for McCarren Park Pool improvements:

WEDNESDAY, JUNE 13, 2007

5:00 PM & 7:00 PM (two sessions)

SWINGING 60'S SENIOR CITIZEN CENTER

211 AINSLIE STREET

(Corner of Manhattan Avenue)

Rather than simply responding to a design proposal, we invite you to participate in creating the design.

Parks will give a summary of the schedule for the project, and discuss budget considerations. Audience participants will break into small groups, with each table hosted by two facilitators that are architectural professionals for assistance. Each table will have a large scale plan of the pool area, templates of an Olympic size pool, a multi-purpose building, tracing paper, markers, etc.

The charge for the evening will simply be that the designs must:

1) Provide swimming

2) Provide year-round use

3) Preserve and reuse the existing buildings

Other than that, everyone is free to dream (within budget constraints). Each table has 30 minutes to sketch and discuss --- then each table will be given 5 minutes to present their ideas to the room. The recommendations will be synthesized by the project architects and presented at a follow-up community meeting.

We look forward to your ideas on improving McCarren Park Pool for future generations.

P.S. Should the number of attendees exceed the legal capacity of the room, provisions will be made for an additional workshop.