Happy Evacuation Day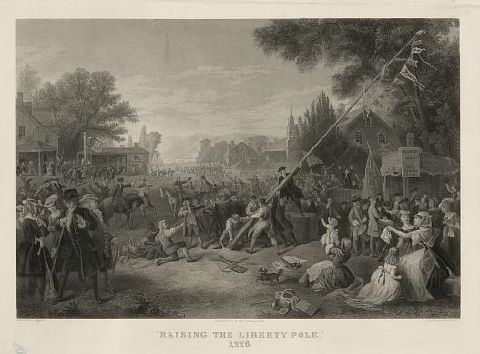 Raising the Liberty Pole, 1776
Source: Library of Congress
In early America, the 25th of November was traditionally celebrated as Evacuation Day - the anniversary of the day that the British troops left New York City in 1783. Once upon a time, particularly in the New York area, Evacuation Day was considered a more important holiday than Independence Day. New York City had been occupied by the British for much of the war, and they City was the last military post given up by the British upon their surrender.
As the British sailed through the Narrows and out of New York Harbor on 25 November 1783, one of their last sights was that of the American flag flying atop a liberty pole that was raised next to the New Utrecht Reformed Church in what is now Bensonhurst, Brooklyn. (New Utrecht was one of the six original towns of Kings County, along with Brooklyn, Flatlands, Flatbush, Gravesend and, of course, Bushwick.) The sixth incarnation of the New Utrecht liberty stands today in the location of the first liberty pole - at Christopher Columbus Avenue (18th Avenue) and Liberty Pole Boulevard (84th Street).
Erected in 1945, the current New Utrecht liberty pole is 106' high, and is topped by a wooden eagle and weathervane that topped the original pole. It is said to be the last remaining liberty pole in the 13 original colonies. The existing church was erected in 1828, and in 1966 it became one of the first landmarks designated within the City of New York; in 1998, the designation was expanded to include the parish house and the liberty pole itself.
More information:
Liberty Pole and the Battle of Golden Hill (Barry Popik)
Friends of Historic New Utrecht
New Utrecht Liberty Pole Association
New Utrecht Reformed Church
Neighborhood Preservation Center
Thanks to Walter Greenspan for bringing this to our attention.