Preserve Locally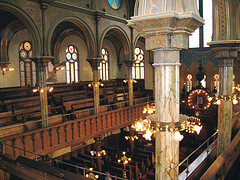 Restored interior of the Eldridge Street Synagogue
Photo: AllWaysNY
This month's issue of Metropolis has an excellent article on the economic and sustainable benefits of historic preservation. Written by Roberta Brandes Gratz (herself a NYC Landmarks commissioner), the article takes as its example the recent restoration of the Eldridge Street Synagogue on the Lower East Side. As Gratz points out, the restoration was a largely local effort, using local talent and local materials. This benefits both the local economy and the earth:
For those who think of localism as a basic tenet of green design, consider this: three firms—the Gil Studio, of Brooklyn; Bill Butt, of Staten Island; and Mel Greenland, of Manhattan—restored the 66 stained-glass windows and the multipane Rose Window in the 1887 Eldridge Street Synagogue, on the Lower East Side of Manhattan. Aurora Lampworks, a historic lighting and replication company in Williamsburg, Brooklyn, with about a dozen local employees, worked on the 237 intricately detailed brass fixtures and the 75-bulb chandelier...
Gratz goes on to talk about the pressures that development have put on local artisans like Aurora - which "has shrunk both the supply of industrial space and housing opportunities for the skilled workforce these companies depend on".
Unfortunately, the sustainability community (including both LEED and PlaNYC) have yet to embrace preservation as a viable part of sustainable growth. Which is surprising when you consider that both preservation and environmentalism came out of fundamentally aligned movements. Even more surprising if, as we do, you subscribe to Carl Elefante's dictum that "the greenest building is one that is already built". Gratz says it better than we can:
Preservation is fundamentally sustain­able. Given the impor­tance green-building experts place on "embodied energy," it's curious that the industry standard barely acknowledges preservation. LEED for Existing Buildings emphasizes main­ten­ance and upgrade but not restoration; LEED for New Construction awards just three points out of 69 for "building reuse," with all sorts of caveats attached. In contrast, providing bike racks and access to public transit earns one point for each. No penalties accrue for demolishing a viable structure and sending it to a landfill. You even get points for recycling elements from that lost building.