Greenway Vote Tonight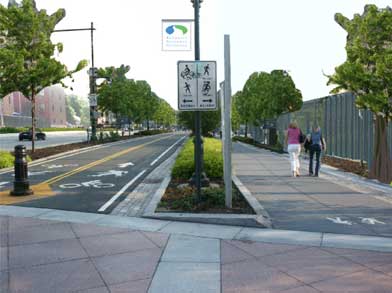 Proposed view of Flushing Avenue, with Greenway installed.
Community Board #1 will be voting this evening on a proposal to put a Greenway along Kent Avenue and West Street in Williamsburg and Greenpoint. This plan, part of the larger Brooklyn Greenway Initiative, would establish a protected bike and walking path along these streets, providing easy access to the planned waterfront esplanades and parks along the East River. To the south, much of the Greenway would run along the waterfront.
As Teresa Toro, a strong advocate for the plan (and sane transportation policy in general) points out, this more than just a bike lane:
...a greenway is not the same as a bike lane, although it has a bike lane element... The greenway will provide a safe, designated walking lane for people who wish to take a nice walk; it will provide critical traffic calming along Kent Avenue, which is also a truck route (and will also provide critical air quality mitigation -- also important because of the truck route). It is more of a linear park, than a bike lane; and the green/planting and walking elements make it all a genuine benefit to the community.
The Greenway will also bring hundreds of new trees to the neighborhood. And we will not lose parking spaces as a result - the car parking that would be displaced by the greenway plan has been replaced elsewhere, and DOT is moving right now to make those parking spaces available now.
When: 8 April 2008, 6:30 p.m.
Where: Swingin' 60's Senior Center, 211 Ainslie Street (corner of Manhattan)