LPC Hearing on McCarren Today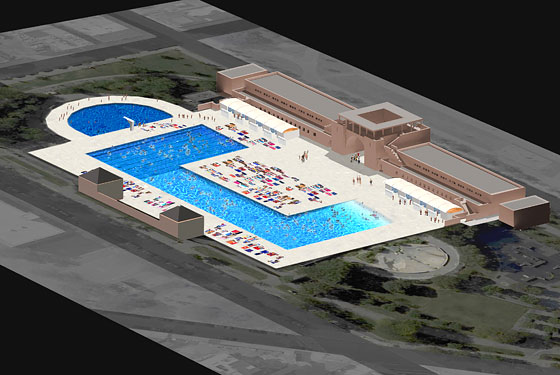 The Landmarks Commission will hold a hearing on the Parks Department's plans for the rehabilitation of the McCarren Park Pool today (early after. WPA supports the plans, which will return the pool to a pool use and will bring a year-round use to the pool. The proposed rehabilitation includes the reopening of the diving pool at the east end of the site, and the construction of new pavilions on the pool deck in front of the shower wings. And, of course, the plan includes significant amounts of restoration for the pool structures themselves. All in all, this plan is a major victory for the Williamsburg community, and we hope it gets built as soon as possible.
The hearing will be held at the Landmarks Preservation Commission, 1 Centre Street, 9th Floor North, Manhattan. The hearing is scheduled for 3:30.