McCaddin Memorial to Reopen for Opera Performance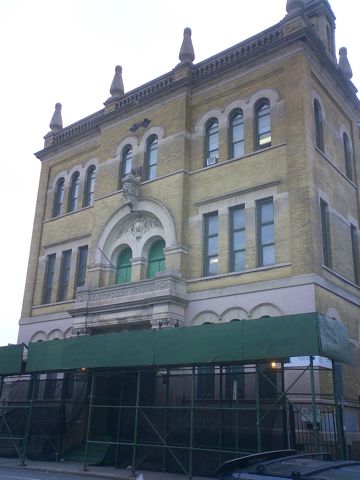 McCaddin Memorial, Berry Street.
McCaddin Memorial Hall is the large yellow brick building on Berry between South 2nd and South 3rd. It is part of the complex of building on that block that belong to the Ss. Peter and Paul parish (the second oldest Catholic parish in Brooklyn). Historically, it served as the school building for Ss. Peter and Paul's parochial school (author Henry Miller was one of its students); lately it has housed a Head Start program, but little else. Which is a shame, since at the center of the building is the 600-seat auditorium seen below.
Now, production company OperaOggiNY is reopening the hall for a performance of L'Oracolo, a one-act verismo opera by Franco Leoni.
A 600 seat, "theater" complete with 50 foot proscenium arch raked stage and a balcony, plenty of fly space with classic brick and wood and plaster construction has been found and is about to be opened to the public by a collaboration between OperaOggiNY and the St. Peter and Paul parish.

Rehearsals, started this week, are already bringing serious opera back to the theater. With Music Director, Bill Lewis, (coach to none other than the Met's Marcello Giordani and accompanist to all of Ronan Tynan's appearances) as part of the mix, these two very serious performers are preparing L'Oracolo, by Leone. Although presented within the last 2 years in a concert version in Manhattan, this is the first time that the work has been staged in an extremely long time. This one act verismo opera. composed by Leoni, who was a student with Puccini and part of Ponchielli's studio, will not disappoint. Set in San Francisco's China Town, cerca 1900, it was all the rage at the Met while Antonio Scotti was a star.
When: Nov. 6, 7, 8. (all at 8pm)
Where: Henry McCaddin Hall 288 Berry Street, Williamsburg
Cost: Admission: $20 dollars.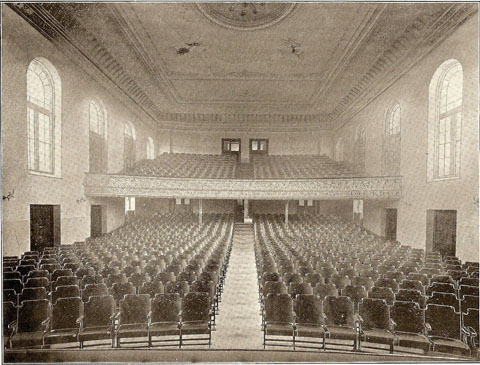 McCaddin Memorial auditorium.
Photo: via NAG
[Via NAG]