Demolition at Eberhard Faber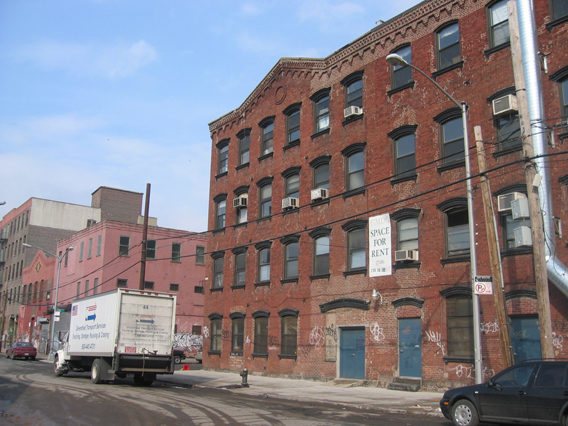 View north on West Street towards Kent Street.
Recently, the Department of Buildings issued a
demolition permit
for a portion of the historic Eberhard Faber pencil factory site. The permit covers a site that includes three buildings, all of which were once part of the pencil factory complex. It is not clear from the permit if the demolition is for all three buildings, or only one. In the past week or two, scaffolding has gone up around the building at the corner of Kent Street and West Street (the three story pink building at the left center of the photo above, and at the far left in the photo below). While this building is not the most distinctive or historic in the Faber complex, it shares a lot with an older two-story structure that is very characteristic of the Eberhard Faber buildings. That building (seen at the far left in the photo above) has the characteristic pedimented cornice with a yellow terra-cotta star at the center of the parapet, a motif that is also seen at 59 Kent Street in the photo below).
UPDATE:
Curbed
did a little sleuthing to find out what is in store for the site. Based on the rendering they found, the 2-story Faber building on West Street is history too. WPA showed this site to Landmarks almost a year ago, but so far no action.