Don't Demo Domino Benefit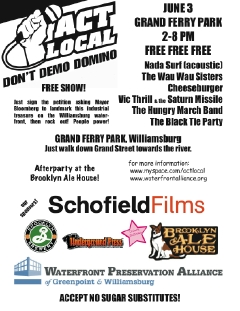 Another great concert event is coming up - the Act Local Don't Demo Domino concert at Grand Ferry Park. The event will held on Sunday, 3 June, from 2:00 pm to 8:00 pm, and features music by Nada Surf, The Wau Wau Sisters, Cheeseburger, Vic Thrill & the Saturn Missile, the Hungry Marching Band and The Black Tie Party.
The event is sponsored by SchofieldFilms, Brooklyn Brewery, Underground Press, the Brooklyn Ale House and Chiara Sullivan.
And best of all - its all free! Act Local only asks that you sign WPA's Don't Demo Petition in order to enjoy an afternoon of free music. And afterwards, join us at the Ale House for the afterparty.