Domino = Landmark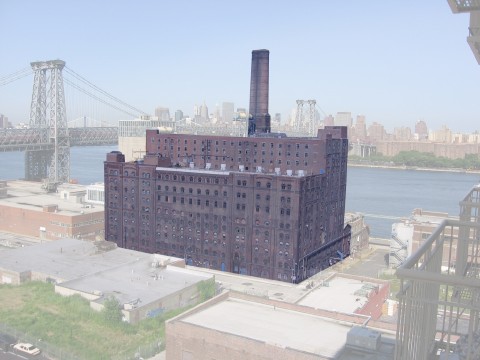 Domino Sugar Refinery, Processing House, the newest City landmark
Photo: michaelsharon
WPA is pleased to announce that the Landmarks Preservation Commission has designated the main refinery building of the Domino Sugar refinery a landmark. Once again, the Landmarks Commission has shown tremendous resolve in recognizing the importance of Brooklyn's industrial heritage. The Mayor's office also deserves praise for recognizing that Williamsburg's industrial past deserves has a place in its bright new future.
The designation of the refinery is great news. It is something that WPA, its members and its supporters have worked very hard to make happen. We are excited that the Domino Sugar Refinery will actually be a part of the New Domino, and not just another branding opportunity.
If you've been following along, you know that the designation does not include a number of other significant buildings on the Domino site that WPA and others have advocated for. It is unfortunate that the Landmarks Commissioners never had an opportunity to review the other buildings on the site. Despite the developer's claims to the contrary, the remainder of the site has been determined historically significant and eligible for the National Register of Historic Places. WPA will continue to work for more preservation at the site, and in particular for preservation that we feel is compatible with the larger community goals for the site, including affordable housing and open space. We welcome the opportunity to work with the developer as a consulting party on the ongoing public review of the project.
The designation of the Domino refinery is still subject to the approval of the City Council (and we know what can happen there). So until then, we will leave our question mark in place.