McCarren Pool Design Revealed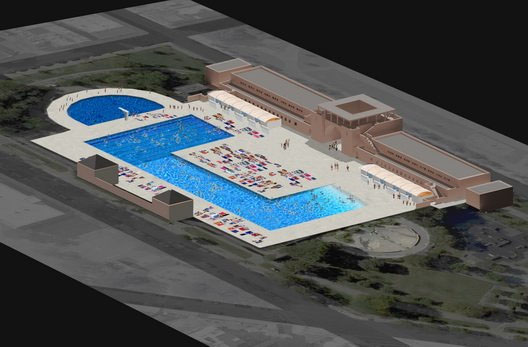 McCarren Park Pool in Summer (proposed)
Curbed has managed to find actual images from last night's McCarren Pool presentation by architects Rogers Marvel (as opposed to the cell phone photos of a powerpoint presentation that we were about to post).
The proposal at this point is still conceptual, but the concepts look very good. Of course the pool will once again be a pool, albeit a slightly smaller one. The large platform projecting into the pool basin is a 17,000 square foot "beach" that would double as an ice rink in the summer. The pool area to the east (left in photo) would be for lap swimming, and to the north would be "fun" swimming. To the west would be a ramped ("zero edge") swimming area to accommodate wheelchairs and also serve as a wading area for kids. The semicircular pool to the east of the main basin is the revamped diving pool.
The pool house itself would be converted to a fitness center and rec center, while showers and changing rooms would be in the new pavilions to the north of the pool house. A restaurant/concession of some sort would operate on the roof of the pool house.
And, of course, the entire complex will be restored. The Parks Department is genuinely excited about making McCarren the jewel in the crown, which (together with the $50 million already set aside for the project) bodes well for the completion and the ongoing operation.
Missing from the pool program is public event space, which people at the design charrettes and in online surveys asked for. Parks is saying that the pool might be used for public events in the Spring and Autumn, between pool time (June, July & August) and ice skating time. Parks is also looking at including venue space at the new Bushwick inlet park or elsewhere in McCarren. But after this year, there's no guarantees.
We look forward to seeing more details on the design as they emerge.